Pole to Pole is the ultimate electric expedition and a world first, which started on 30 March 2023. Husband and wife explorers Chris & Julie Ramsey will drive an all-electric Nissan Ariya as they attempt to travel more than 27,000km across three continents from the 1823 Magnetic North Pole in the frozen Arctic Ocean, to the South Pole in Antarctica. On the 9-month expedition through the Americas they'll showcase the capability and excitement of EVs and shine a light on bold initiatives and fascinating communities harnessing renewable energy.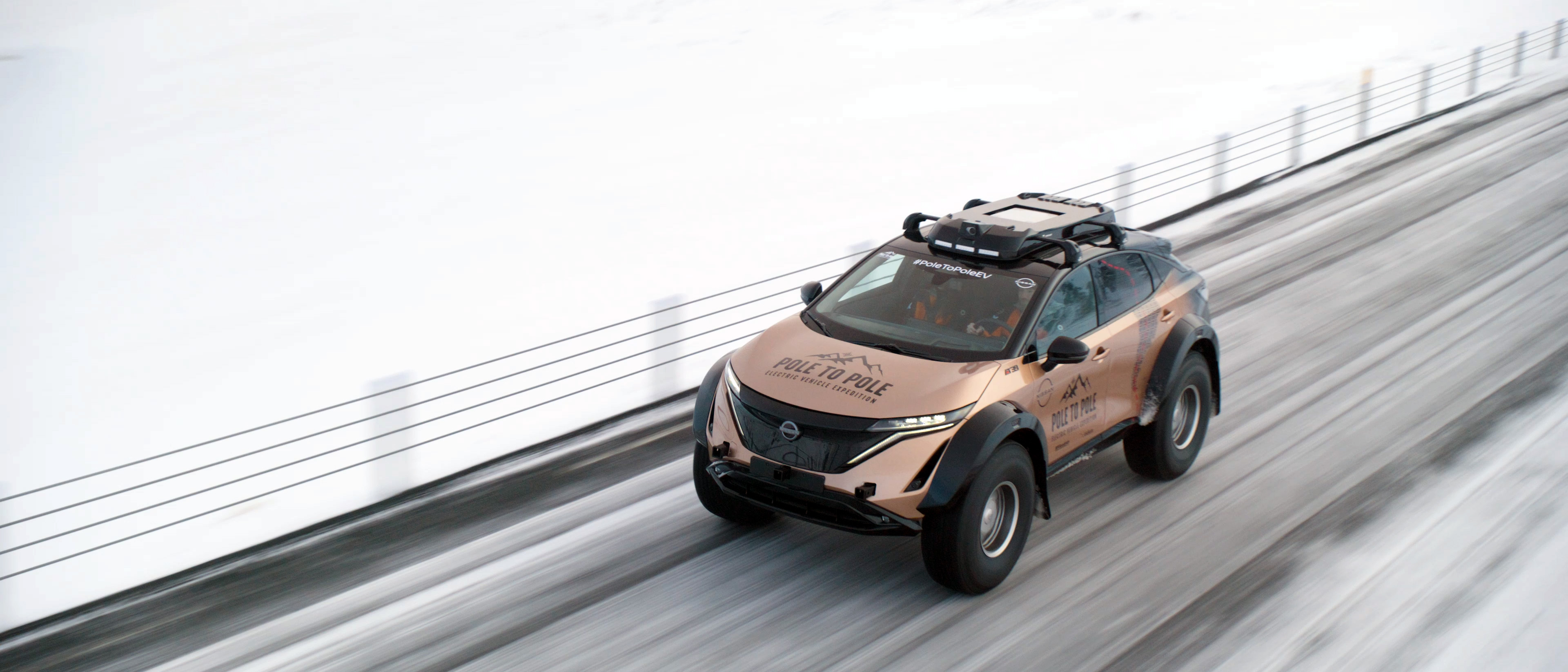 Chris and Julie Ramsey are no strangers to electric driving challenges. They've been testing the limits of EVs for the past 10 years, becoming the first people to complete the gruelling 17,000km Mongol Rally in an electric vehicle, their own Nissan Leaf. Watch our video to find out what drives them, and why they're adventuring from Pole to Pole.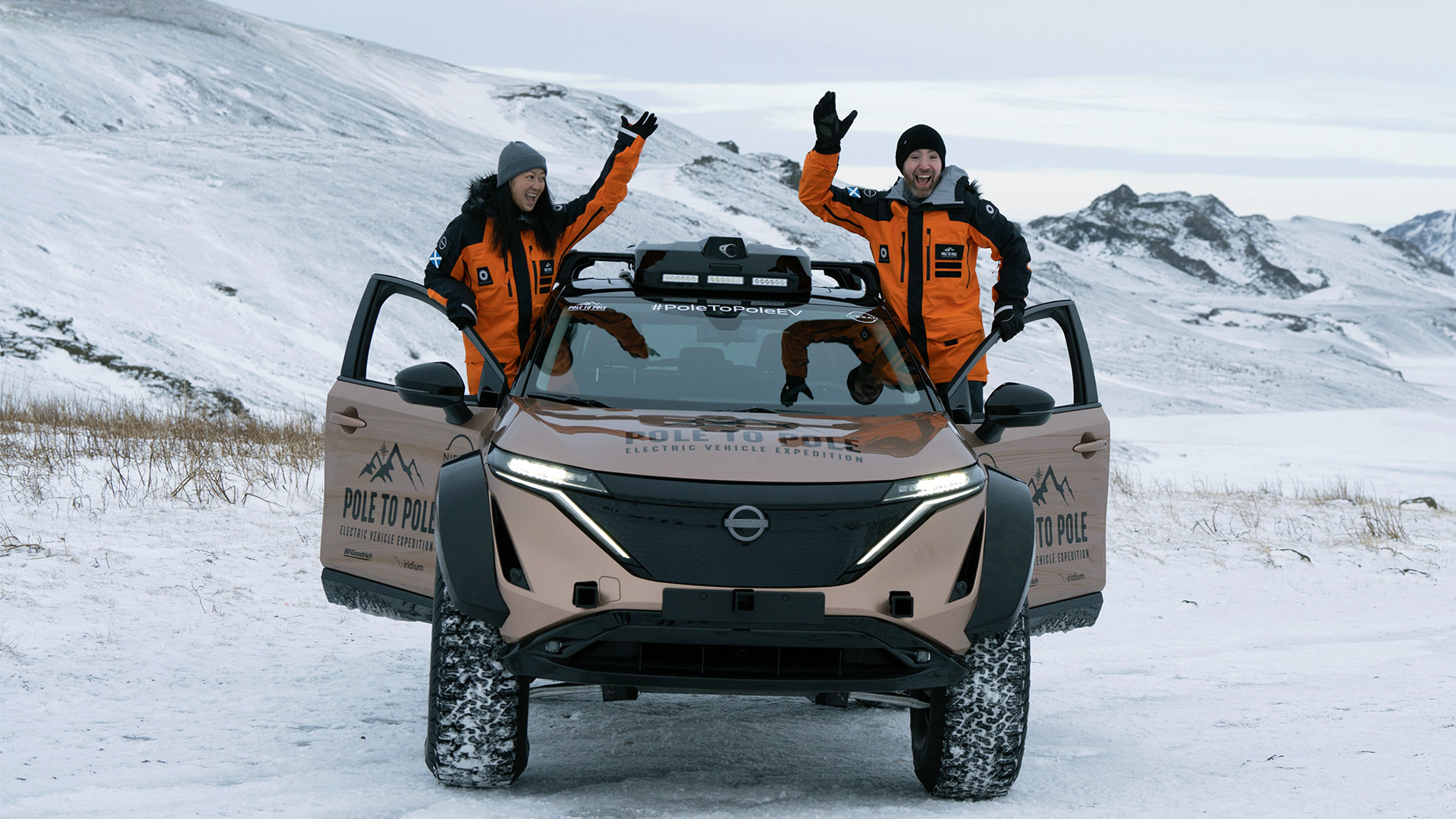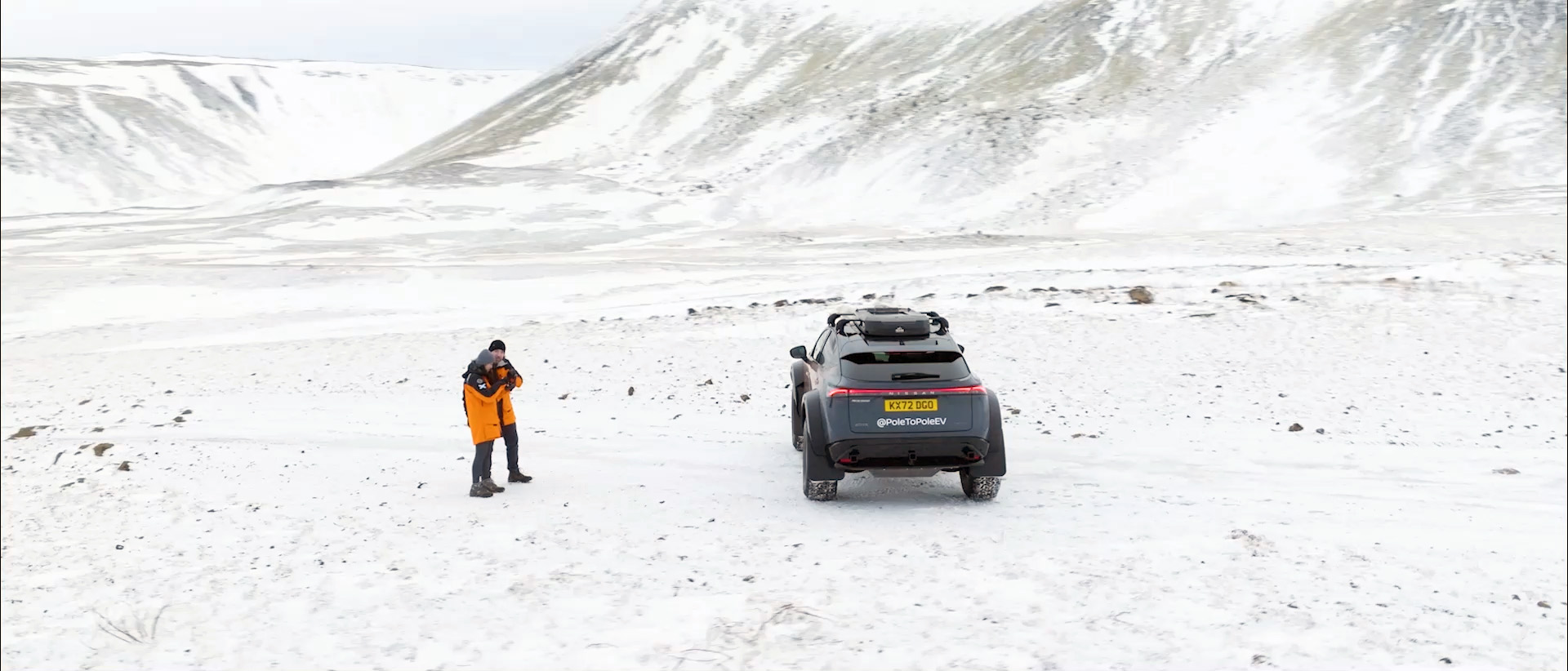 The Pole to Pole team entrusted Nissan, with our strong record of innovation, to help them take on this EV expedition and chose the advanced Nissan Ariya as a versatile and highly capable expedition vehicle. Retaining the production spec vehicle, particularly the standard battery and powertrain, is essential to the credibility of Pole to Pole but some necessary modifications were made in collaboration with polar mobility experts Arctic Trucks. These include raised suspension and 39-inch snow tyres, that were tested in Iceland's Arctic-like terrain.
Chris and Julie will recharge the car in the polar regions using innovative portable charging tech. They'll tow a prototype trailer carrying a lightweight wind turbine and solar panels, making the most of high winds and long daylight hours to charge the car battery.
Control in extreme conditions
The expedition Ariya features Nissan's advanced electric all-wheel-control technology, e-4ORCE, to enable Chris and Julie to feel confident even when tackling the most challenging landscapes, from ice and snow-covered tracks to desert climbs.
As well as the latest tech to keep Chris and Julie comfortable and connected, their custom expedition Ariya has extra features to help along the route, including an integrated espresso machine, weather station and a drone to capture their stunning surroundings.
The EV for everyday adventures
Our all-new, all-electric ARIYA crossover SUV is the ideal partner for any road trip. It's geared up to carry intrepid drivers in comfort and put them in control with our e-4ORCE technology, that gives the car enhanced stability and traction on every journey.
Get the latest updates from Chris and Julie as they journey through extraordinary landscapes, from snow-covered glaciers to vast desert dunes.
Find out about how Chris and Julie's expedition Ariya was developed and look out for further insights into what they're doing and who they're meeting on their travels.